Commonside Funeral Home
63 Norton Road,
Pelsall
West Midlands
WS3 4NR
Telephone: 01922 685999 -24 hour service
Fax: 01922 685977
Email: pelsallfuneral@btconnect.com
Disabled Access
A caring, professional funeral service for Pelsall and the surrounding area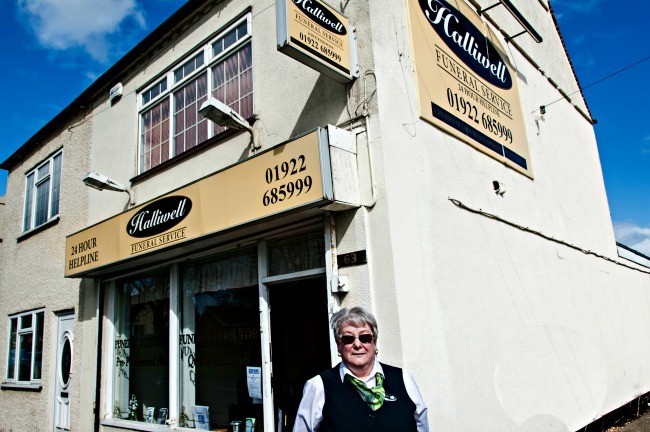 Monday 9am to 5pm
Saturday and Sunday closed
Pelsall Branch Funeral Staff
Trevor Palmer, who heads up the Halliwell funeral division, was a director of an engineering company before deciding to sell up the business and switch careers.
That was seven years ago. Now, after extensive training in all aspects of the job, he is using his management experience to ensure our branches in Coseley, Great Wyrley, Heath Hayes and Pelsall maintain their high standards.
Trevor also has a hands-on role as the face of Halliwell, conducting virtually every funeral in the area.
"It was my wife Susan, who works in head office for the firm, who suggested I go into this because I also do a lot of driving and it seemed a good fit. In the manufacturing business I always dealt with members of the public. So I knew I could adapt, and I wanted to be able to give something back to families at their lowest point. I love the role."
Funeral arranger Jean Rogers guides families in difficult times through the process of organising the send-off of a loved one from start to finish. She also liaises with ministers and other officials.
Jean has a wealth of experience, having joined Halliwell in 2005, and is a familiar face in Pelsall, where she has lived and worked for many years.
She says people like to know who they are dealing with, and most of the funerals she arranges come from the recommendation of previous customers who have appreciated her kindness and support.
One of the more unusual funerals she arranged was for a lorry driver, who was taken on his final journey on the back of a truck, flanked by police outriders because he was also a special constable.
"I like the caring aspect of what I do here. There's nothing nicer than when someone comes in with a thank you card or a bunch flowers. That's when you know you've done your job properly."
Funeral operative Jo Miller joined the funeral service in 2010 and covers all our branches, including Pelsall, Heath Hayes, Coseley and Great Wyrley.
Jo is part of the team that carries out all the preparations, as well as arrangements, for funerals and holds a Diploma in Funeral Arranging and Administration (Dip.FAA).
Before working in the funeral trade she studied music at university.
Jo says she wanted to help families in their time of grief.
"I did work experience initially and loved every second of it. I like looking after the families and being there for them, as well as caring for the deceased."