Halliwell Funeral Services
Kingswood Funeral Home
164 Walsall Road,
Great Wyrley
West Midlands
WS6 6NQ
Telephone: 01922 419090 -24 hour service
Fax: 01922 418224
Email: gtwyrleyfuneral@tamworth.coop
Disabled access
Halliwell Great Wyrley Branch
A sensitive and professional funeral service serving the Great Wyrley community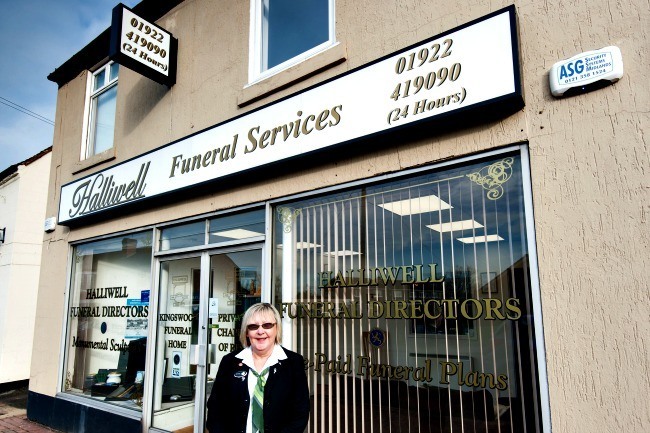 The Great Wyrley branch offers all of Halliwell's services, including a comprehensive monumental masonry service, bespoke funerals, floral tributes and orders of service.
The funeral home's facilities include a private chapel of rest and a family room where relatives can discuss their requirements.
Monday to Friday 9am-5pm
Saturday and Sunday closed
Great Wyrley Branch Funeral Staff
Trevor Palmer, who heads up the Halliwell funeral division, was a director of an engineering company before deciding to sell up the business and switch careers.
That was seven years ago. Now, after extensive training in all aspects of the job, he is using his management experience to ensure our branches in Coseley, Great Wyrley, Heath Hayes and Pelsall maintain their high standards.
Trevor also has a hands-on role as the face of Halliwell, conducting virtually every funeral in the area.
"It was my wife Susan, who works in head office for the firm, who suggested I go into this because I also do a lot of driving and it seemed a good fit. In the manufacturing business I always dealt with members of the public. So I knew I could adapt, and I wanted to be able to give something back to families at their lowest point. I love the role."
Funeral arranger Kath Walker is a familiar face in Great Wyrley, having lived there for more than 35 years. She is a member of St Mark's Church in Great Wyrley and joined Halliwell in 2004. Kath has helped many families through their loss over the years and derives a lot of satisfaction from her work.
"I enjoy dealing with families, and sometimes people walk in off the street to arrange a funeral. It's whatever suits people best."
Funeral arranger Sandra King divides her time between our funeral homes at Heath Hayes, Great Wyrley, Coseley and Pelsall. Sandra has lived in Heath Hayes since she was ten. She is a member of the Constitutional Bowling Club in Heath Hayes and travels all over Staffordshire playing crown green bowls.
Sandra finds her work very rewarding. "You learn something every day about people, different religions, customs and funerals," she said.
Her own father Derek's funeral was arranged through the Heath Hayes branch. His favourite Frank Sinatra tunes were played while he lay in the chapel of rest.